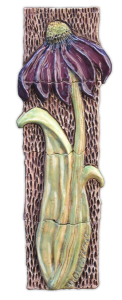 It's fun when life comes full circle. My high school years were spent at a small, all-girl Catholic school. In my graduating class of around 90, we formed close friendships. One friend, Rosie Applebee ended up marrying into my family. We became enriched and blessed because of her addition.
Her beloved daughter got married and as a gift, instead of a toaster oven, Rosie gave her a piece consisting of two pieces of my artwork. Because the flowers in her wedding were a vibrant range of purples, we chose the  coneflower theme in those tones for this commission.
"These two "Sister" Coneflower Pieces will be a perfect addition to the kids' first apartment together. No matter where they end up, they can take them along", said Rosie
Bravo, mom for thinking of adding art into your kids lives. This gift will always bring joy, beauty and a smile to their faces to warm their new home.